Moon Necklace Gold Moon Necklace Charm Crescent Moon Pendant Crescent Moon Necklace Moon Phase Geometric Necklace Contemporary Jewelry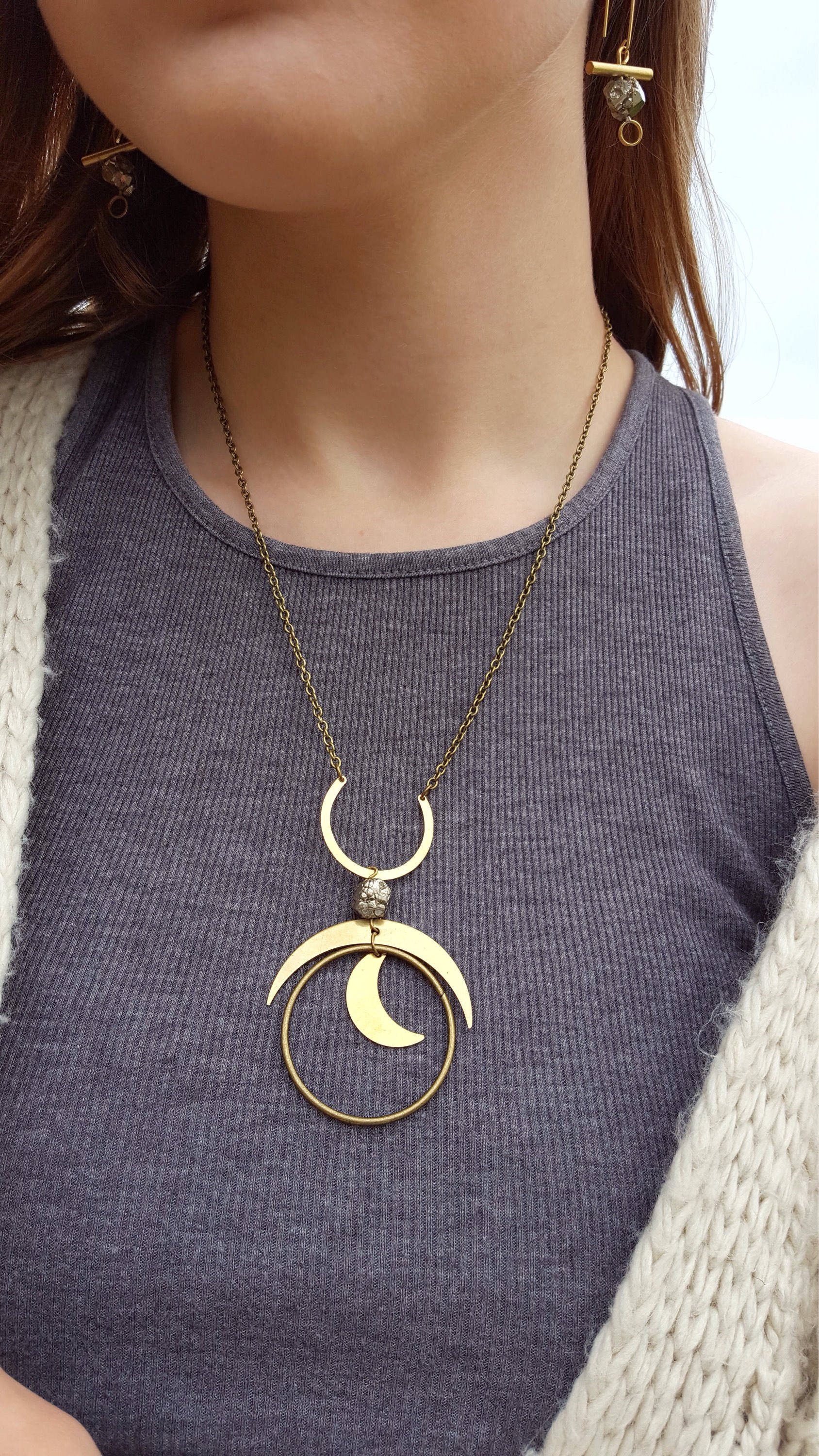 Moon Necklace Gold Moon Necklace Charm Crescent Moon Pendant Crescent Moon Necklace Moon Phase Geometric Necklace Contemporary Jewelry
For the stylish and cutting edge woman, the crescent moon necklace was not created for the reserved. This geometric necklace reflects both the moon and the stars through the design, and only those that are daring enough can pull this look off.

Unique to the wearer, the design may be replicated but each piece is one of kind as mother nature never duplicates herself and each piece of pyrite may have vary in the shape and size. Also available as a set with the gold threader earrings that can be found here:https://www.shopdynamoonline.com/earrings/gold-threader-earrings-pyrite-earrings-geometric-earrings-modern-earrings-long-earrings-gold-and-silver-earrings-mixed-metal-earrings-dynamo by request only.

Dynamo sells natural inspired handmade jewelry and accessories with an edge for the modern fashion forward woman.

The necklace is measures 20 inches in length, while the pendant hangs down an additional 3 inches in length. The gold moon pendant is topped of with a small piece of raw pyrite. Pyrite is commonly known as fool's gold, and has a magnificent luster that is somewhere between a silver and gold tone. Raw pyrite inspires creativity, protects against harm or danger as well as enhances assertive energies. The necklace is topped off with nickel and lead free chain and lobster claw closure.
becca832 on Feb 1, 2019
5 out of 5 stars
"Love it! It looks just like the picture."
For more necklaces visit our selection here

or visit our full shop here for our full line of jewelry and accessories