Raw Mineral Jewelry Rose Gold Bracelet Bridesmaid Gift Pyrite Bracelet Pyrite Jewelry Rose Gold Cuff Bracelet Christmas Gift for Women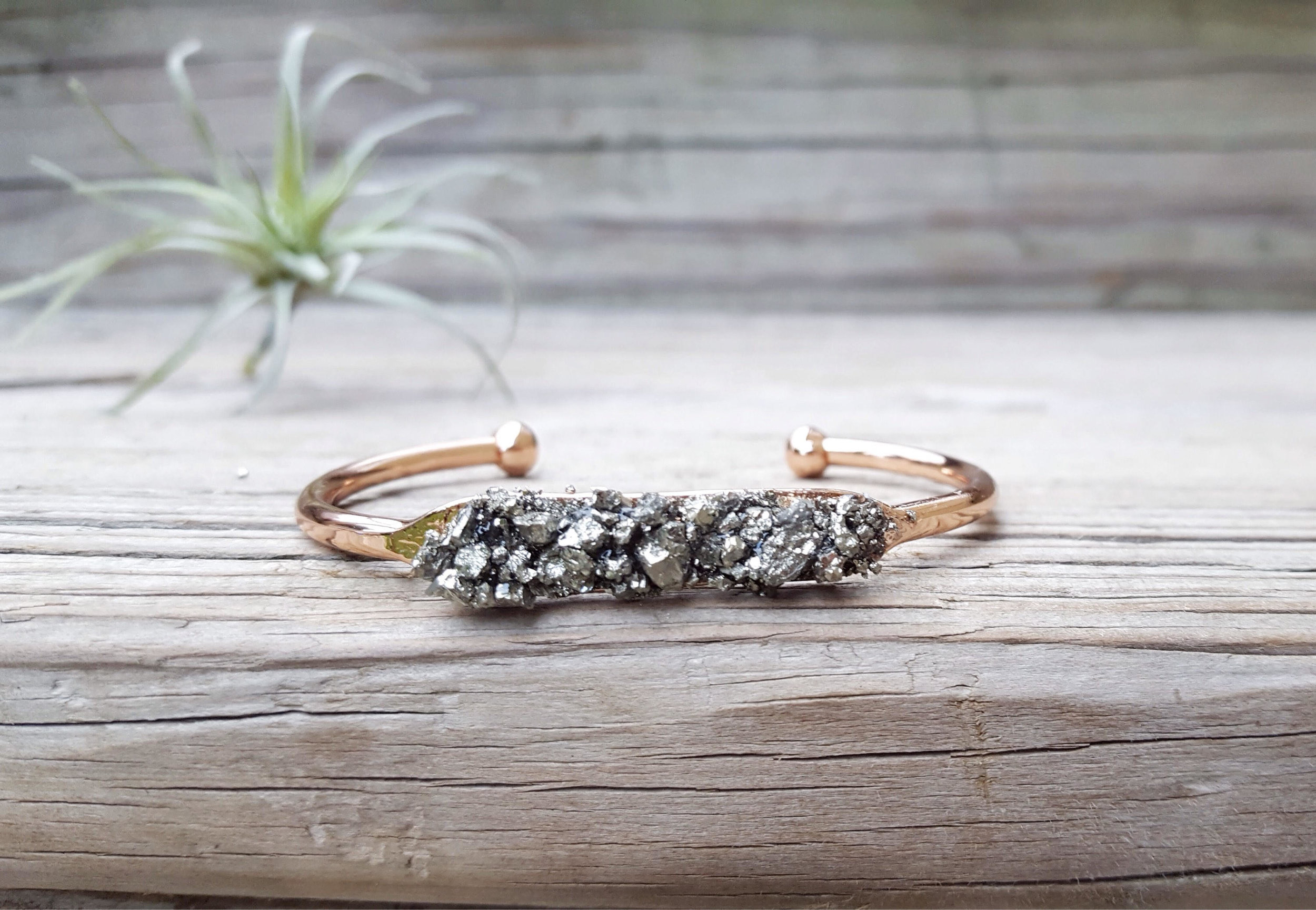 Raw Mineral Jewelry Rose Gold Bracelet Bridesmaid Gift Pyrite Bracelet Pyrite Jewelry Rose Gold Cuff Bracelet Christmas Gift for Women
Raw crystals and minerals in jewelry are trending in a big way. They allow the wearer to not only stay fresh and modern, but some also believe that they also have metaphysical properties, such as pyrite. Pyrite is commonly known as fool's gold, and has a magnificent luster that is somewhere between a silver and gold tone. Raw pyrite inspires creativity, protects against harm or danger as well as enhances assertive energies.


The bracelet is one size fits most, but the ends are slightly adjustable for a snugger fit. The bar on the bracelet measures 7mm X 38mm at widest point. The cuff bracelet itself is nickel and lead free rose gold electroplated brass. Because of the nature of the construction of the bracelet it is advised to avoid contact with water to preserve the integrity of the piece.

Please note: It is normal for small flecks of pyrite to come loose over time with normal wear and tear

To find the other bracelet featured in the picture you can find it here: https://www.etsy.com/listing/530503220/rose-gold-cuff-bracelet-quartz-crystal?ref=related-1 or to find a pair of coordinating earrings you can find them here: https://www.etsy.com/listing/540263295/rose-gold-earrings-statement-earrings?ref=shop_home_active_9

For more bracelets visit our selection here: https://www.etsy.com/shop/DyNaModuo?ref=listing-shop2-all-items-count&section_id=16330467
or
check out our shop at dynamoduo.etsy.com for our complete line of jewelry and accessories.